What's New At ITS
Transportation Events
2014 UCTC Student Conference April 17-18 at Cal Poly Pomona ( Apr 17 - 18 )

Registration is now open for the 2014 UCTC Student Conference April 17-18 at Cal Poly Pomona!
Grand Illusions and Hard Realities: Ideas for Reinventing the Ways We Travel ( Mar 10 )
When: Monday, March 10th at 12:00pm
Where: Public Affairs Building, Room 2343
Lunch will be provided.
UCLA in DC Reception ( Jan 14 )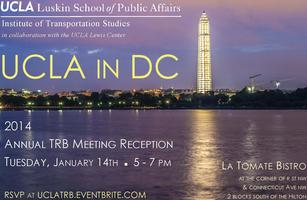 TRB 93rd Annual Meeting ( Jan 12 - 16 )
Plan now to attend the Transportation Research Board (TRB) 93rd Annual Meeting, an information packed program that will attract more than 12,000 transportation professionals from around the world to Washington, D.C. on January 12-16, 2014.
The Tea Party and Property Rights Activists: Pushing Back Against Agenda 21 & Sustainable Communities Planning ( Dec 2 )
The Tea Party exploded on the U.S. scene after President Obama's 2008 election, and its role in national politics has been well researched. Less studied is the fierce opposition Tea Party and property rights advocates have directed at local and regional sustainability planning efforts.
Dr. Frick will present research findings from her comparative case analysis of regional planning efforts in both the San Francisco Bay Area and Atlanta, examining participants' motivations, their use of the web and social media to communicate, organize, market their cause and refine their strategies, as well as planners' responses and impacts on practice.
More Events >>
Recent Books by ITS Faculty
Auto Motives - Evelyn Blumenberg
Our global reliance on private automobiles as the primary means for transporting individuals is likely to become increasingly problematic over the next ten to 20 years. International traffic forecasts suggest that the total number of private automobiles will grow from approximately 800 million in 2002 to more than two billion in 2030. At the same time, lack of automobility leads to social exclusion and hinders positive economic outcomes for many segments of society.

The High Cost of Free Parking - Donald Shoup
Off-street parking requirements are devastating American cities. So says Donald Shoup, FAICP, in The High Cost of Free Parking, a no-holds-barred directive on the way parking should be. Free parking, he argues, has contributed to auto dependence, rapid urban sprawl, extravagant energy use, and a host of other problems .More information about this long-awaited book is available from the American Planning Association's website.